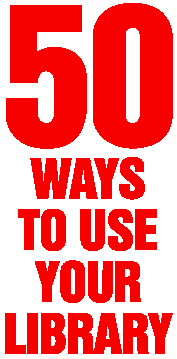 Get A Library Card.
Check-out What's New
Libraries aren't what they used to be. They're better. Here are just 50 ways your library can enrich your life. Visit your library, and you'll see the limitless opportunities that await you.
Scare yourself with a mystery.
Learn how to lower your taxes.
Reserve a book.
Trace a friend in an out-of-state telephone book.
Prepare for your job interview.
Pick up a book on cassette and listen to it in your car as you drive home.
Read a large-type book without wearing your glasses.
Check out the latest jazz CD by Chick Corea
Spruce up the house with the latest books on interior design.
Borrow Hawaiian music for your luau.
Get a schedule of classes for local colleges.
Discuss what you've read in LET'S TALK BOOKS group.
Attend a Sunday musicale - Bach to Rock.
Find out about library service to homebound individuals.
Look up your new credentials in a medical directory.
Find out what was happening in Newport Beach in 1940.
Check out a legal question in "California Code Annotated."
Call for a quote on what AT&T stock did today.
Look in Who's Who in America to see if your boss made it into the book.
Learn how to plan a drought resistant garden.
Trek to another planet in a Sci-Fi novel.
Find out where to send a consumer complaint.
Learn how to clean ink stains from a marble counter.
Head for the Nautical Collection if your boat springs a leak.
Call the Reference Desk to find out who said "To err is human, to forgive divine." Did you bet it was Shakespeare? It wasn't.
Get some Bay Area demographic information for business report you're writing.
Spend a couple of nostalgic hours looking at back issues of LIFE magazine.
Decide which DVD player to buy with the help of consumer guides.
Check the financial standing of your bank or S&L
Borrow a set of audiocassettes that teach you how to speak French.
Get information about potential new customers for your business from Dun & Bradstreet's "Million Dollar Directory".
Enjoy changing exhibits.
Take home Bach, Beethoven and Brahms.
Entertain your preschooler with a book and a read-along audiocassette.
Join others for a "Brown-bag Lunch" and hear a stimulating speaker.
Volunteer as a literacy tutor.
Learn who won the America's Cup in 1901.
Let the children choose an armload of read-aloud stories.
Ask for information about how to start a business.
Get tax forms and tax filing information.
Get a list of materials that help gain reading skills.
Make photocopies, some libraries even have a color copier.
Get an inter-library loan from a library in another city-it's done quickly by computer.
Enroll your child in your library's Summer Reading Program.
Check on an out-of-town lawyer in "Martindale's".
Ask a staff member to give a talk to your service organization.
Look in "Standard & Poor's" and "Moody's" Directories for information on a potential investment.
Check out a video on boating safety.
For a leaky faucet you might look up a book on how to do your own plumbing.
Learn what's happening at City Hall by checking the City Council agenda before a meeting.