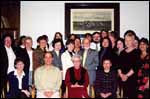 Twenty-five Branch Librarians gathered for a photo at the Valentine's Luncheon in their honor at the University Club at UCI.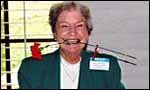 FLF Secretary Betty An Rauch accepts the carnation challenge.
The library at the University Club looked festive and welcoming for the Branch Managers Luncheon on February 11. The "Heart of the Library" theme was seen throughout from the Celebrate Libraries banner that greeted our 74 guests to the red carnations tags stating 'We Love Our Libraries" for them to take home. Twenty-five Branch Managers were Foundation guests and each one received a reference book with a book plate inscribed with their name and library. John Adams "tickled the ivories" with jazz and blues tunes during the social period. Laughter and good conversation prevailed as we honored our Branch Managers. Joining in the celebration were representatives from Supervisor Wilson's and Supervisor Silva's offices as well as several members from the Library Advisory Board. John Adams also was presented with an inscribed book and a cigar congratulating him on his wonderful "family." Our Branch Managers are truly the "Heart of the Library."
Martha Lydick
Friends of the Orange County Library Foundation
FFCL 3rd Vice President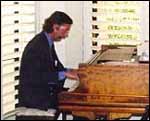 John Adams at the keyboard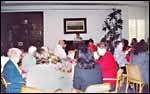 Martha Lydick, president of FLF, addresses the honored guests before presentation of books to Branch Managers.