Peter's Delicious Pumpkin
When most people think of pumpkin as food (rather than as a jack-o-lantern), they think of pumpkin pie. The pumpkin is a fruit, a member of the melon family. Here's a delicious way to serve it with dinner, and easy, too, because it uses canned pumpkin.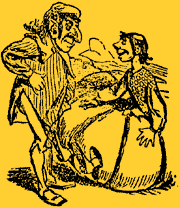 Equipment: saucepan or mircowaveable bowl, wooden spoon, measuring spoons
Ingredients:
1 #2 can of cooked pumpkin
2 Tablespoons margarine or butter
1 Tablespoon of pumpkin pie spice

or instead of pumpkin spice add

2 teaspoons ground cinnamon
1/2 teaspoon ground cloves
1/2 teaspoon ground nutmeg
1 or 2 teaspoons brown sugar (or brown sugar substitute depending on how sweet you want it)

Top of stove: use saucepan. Microwave: use microwavable bowl. Add all ingredients, stir, and heat until warm.

— from Mother Goose Cookbook, work-in-progress, c 1998, Gloria T. Delamar