The first Mother Goose circle-rhyme to come to most minds is "Ring-a-round a rosie...." The "traditional" words, however, are different on the two sides of the Atlantic:
American version:
Ring-a-ring o' roses,
A pocket full of posies,
Ashes! Ashes!
We all fall down.
British version:
Ring-a-ring o' roses,
A pocket full of posies,
A-tishoo! A-tishoo!
We all fell down.
variation on last two lines
Hush! Hush! Hush! Hush!
We've all tumbled down.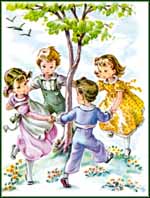 A rather far-fetched interpretation of this piece has had would-be origin- finders speculating that it is based on the Great Plague of London (1665), as witness the rash ("roses"), herbs and spices to sweeten the air ("posies"), sneezing, and implicit dying ("all fall down"). But the time-lapse between the plague and the appearance of the game, diminishes that theory. Satires are almost always written about then-current events. Also heard is the theory that children sang this during the catastrophic European Black Death (1347), the "ring" supposedly referring to the red spot that marked the onset of the disease, and the rest following the same allegations heard for the plague theory, which is the one most often repeated.

William Wells Newell, in Games and Songs of American Children (1883), cited a version of 1790 (sung to the melody current in the twentieth century) as:
1790 version
Round a ring of roses,
A bottle full of posie,
All the little girls in our town,
Ring for little Josie....
variation
Round a ring of roses,
Pots full of posies,
The one who stops last
Shall tell whom she loves best.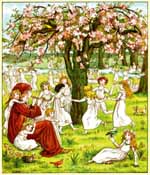 This appears to be the original wording, as no earlier is found—and gives no impression of being connected with the effects of the plague. The "tumble down" version first appeared in children's literature in 1881, in Kate Greenaway's Mother Goose.
Ring-a-ring-a-roses,
A pocket full of posies,
Ashes! Ashes!
We all fall down.

Other nineteenth century versions show the "fall" as a bow, curtsey, or even a stoop.
The early patterns of the words show no real resemblance to the Black Death or the plague. The interpretations continue to surface, however, probably because people in some perverse way would like to believe that the innocent rhyme has a grim history. There are numerous variations on the English wording, and like so many other Mother Goose ditties, similar versions in the European countries.
— based on text in Mother Goose: From Nursery to Literature (McFarland Pub.) by Gloria T. Delamar