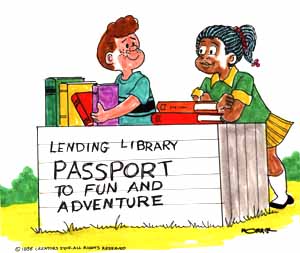 To save this graphic to disc, click on the cartoon and then select "file" and "save" from your browser's menu or "copy" and "paste" the image into a folder.
Download the print image (lendinglib.zip – 167KB)
Copyright 1999 by Morrie Turner. These images may be downloaded and freely used by non-profit reading and literacy programs and libraries. The images may not be changed in any way, reposted for download, nor may they be resold.
---
[ Wee Pals Home ]